Where I'm Supposed To Be
A Reflection After My First Month In The Mission Area Renz Nikolai C. Flores, JVP 43
A month has gone by since I was missioned to Siargao as a volunteer to work at The Sun Crew as Education Support Officer and much has happened since. Yet out of the many things that occurred, I would like to single out one significant experience that stands out from among them – tutoring.

One of the tasks assigned to me is to handle the Numeracy Program of The Sun Crew, our partner institution as volunteers. This is a new program designed to help learners in the grade school having difficulty in Math by means of an after-class tutorial.Though this program is yet to begin this September, I had a glimpse of how it's like to do tutorials over the past few weeks.

My mission partner, tasked to oversee the academic performance of our scholars, asked me if I could help her out with their tutorials. Willingly, I accepted the invite. It started with me facilitating simple flash card drills in multiplication, until there was a need for a more specific way of teaching our scholars. We realized that, although our scholars are in the seventh grade, some are still struggling with the basics. Because of this, I continued to give my assistance in Math tutorials and to be honest, it's not an easy task.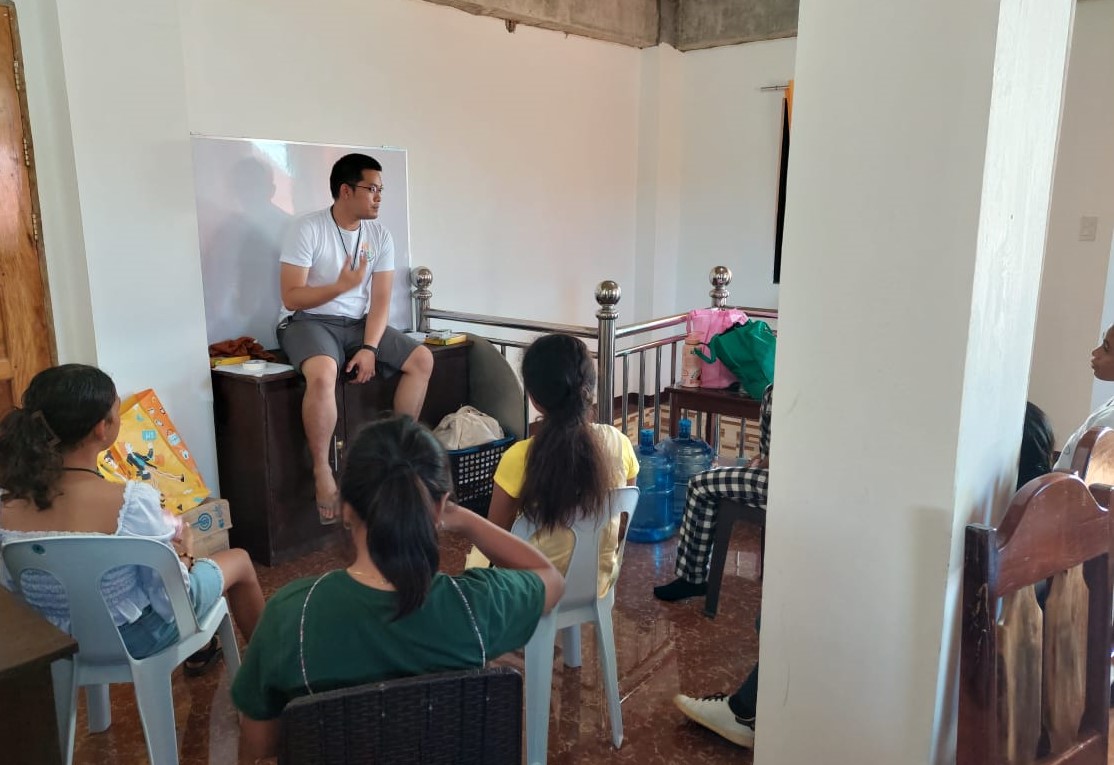 Tutoring is a taxing work. There were times when I would be pissed off and frustrated because of the learner's slow progress. There were times when I had to struggle how to make Math more interesting and relatable to them. Moreover, there were times when I had been challenged to bring down my knowledge to their level of understanding. This was just a glimpse of what is to come for me in the program.

I reached a point where I wondered to myself: Why me? Why kids? I know I am not so good at dealing with them, more so, in teaching them Math which is a very difficult subject to communicate. I felt like I was given something I was not so used to doing. I found myself being asked to move out of my comfort zone, and to tread unknown and shaky paths.

Suddenly, it dawned on me: this was what I was praying for; this was why I was here. I was here to grow and become a better, more loving person. God has been answering this prayer of mine by leading me here, and providing for me these opportunities for maturity. These circumstances were part of that greater picture to
which I am in. All these assured me that I am where I should be.

This realization became a lens for me to see things from a different perspective. The assurance it gave me allowed me to see the good that has been happening around me: seeing the kids exert all their effort to learn; hearing them say they understood the concepts better; watching them do the exercises religiously and finally being able to get it right – all these became sources of consolation, inspiration, and hope for me. They assure me that things will turn out well in the end.
The future may still be bleak for me, and a lot may still be in-store, but one thing's for sure: God has brought me here because I am where I am supposed to be. This is my answered prayer. This is where I will become a more loving servant of God.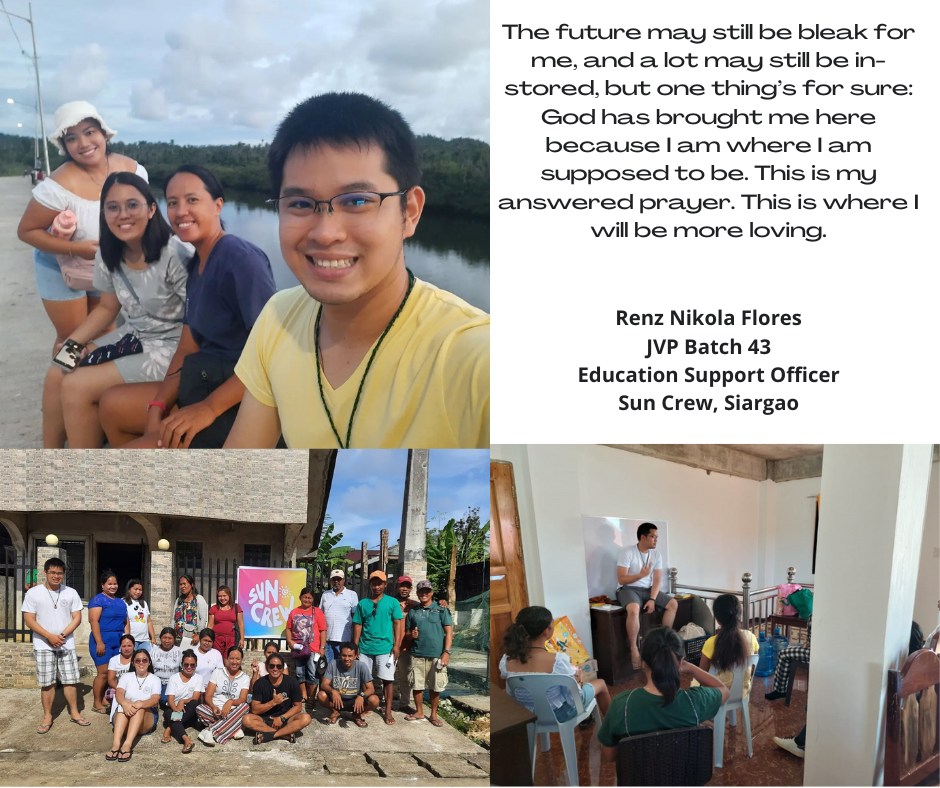 ___________________________________
Just Enough Light:
A Year-End Reflection
by Teresa Kristel V Banta, B42

"Were not our hearts burning within us, while he talked with us on the road and opened the Scriptures to us?" (Luke 24:32)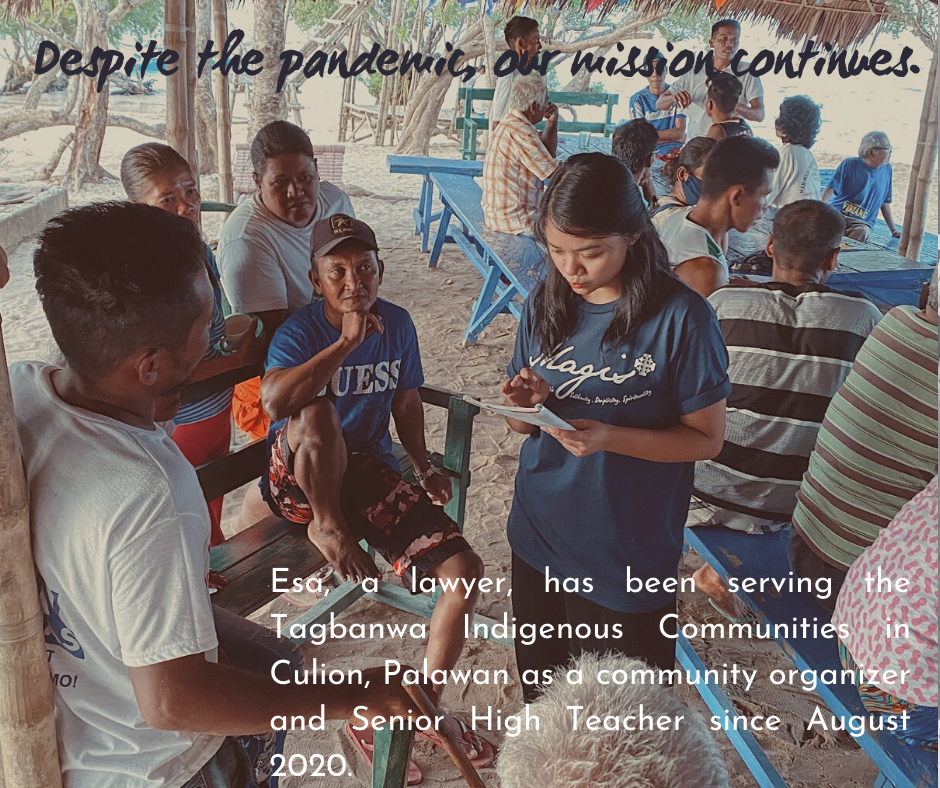 There is a lot to be said about the mission year that was. Batch 42 (the "Batch") finished with seven courageous volunteers, six of whom were new, which means that for many of us, it was an exciting year filled with self-discovery, growth, and adventure. As the sole renewee, I remained blessed enough to still experience a year of realignment, resilience, and continuous grace. It was a stubborn confirmation of what I already knew from my first JVP year: that God's love—in whichever way, shape, or form, in light and in darkness—sustains.
And it sustains in abundance.
During the Batch's Year-End Evaluation and Synthesis Seminar ("YESS"), held in Mindoro between the last week of May and first week of June, the volunteers gathered together with the formation staff in-person for the first time in two years. While it is true that everybody made the best out of the online-only situation caused by the pandemic, there are just some things that cannot be replaced by video thumbnails and choppy reception in Zoom calls. Indeed, the pandemic robbed us of many things: for me, personally, I was deprived the chance to be in the same room as my Batch 41 batch mates—I started and ended my first volunteer year without ever meeting them outside a video call; and the chance to be sent off in an in-person mission mass, despite having spent two years as a volunteer. But the pandemic also taught us to be more introspective, to be creative in fulfilling the tasks cut out for us, and to surface only the things that truly matter. Hence, as if paying homage to the age-old cliché, more than an ending, this year's in-person YESS signaled a new and more hopeful beginning.
But as all beginnings go, the ground feels shaky with uncertainty.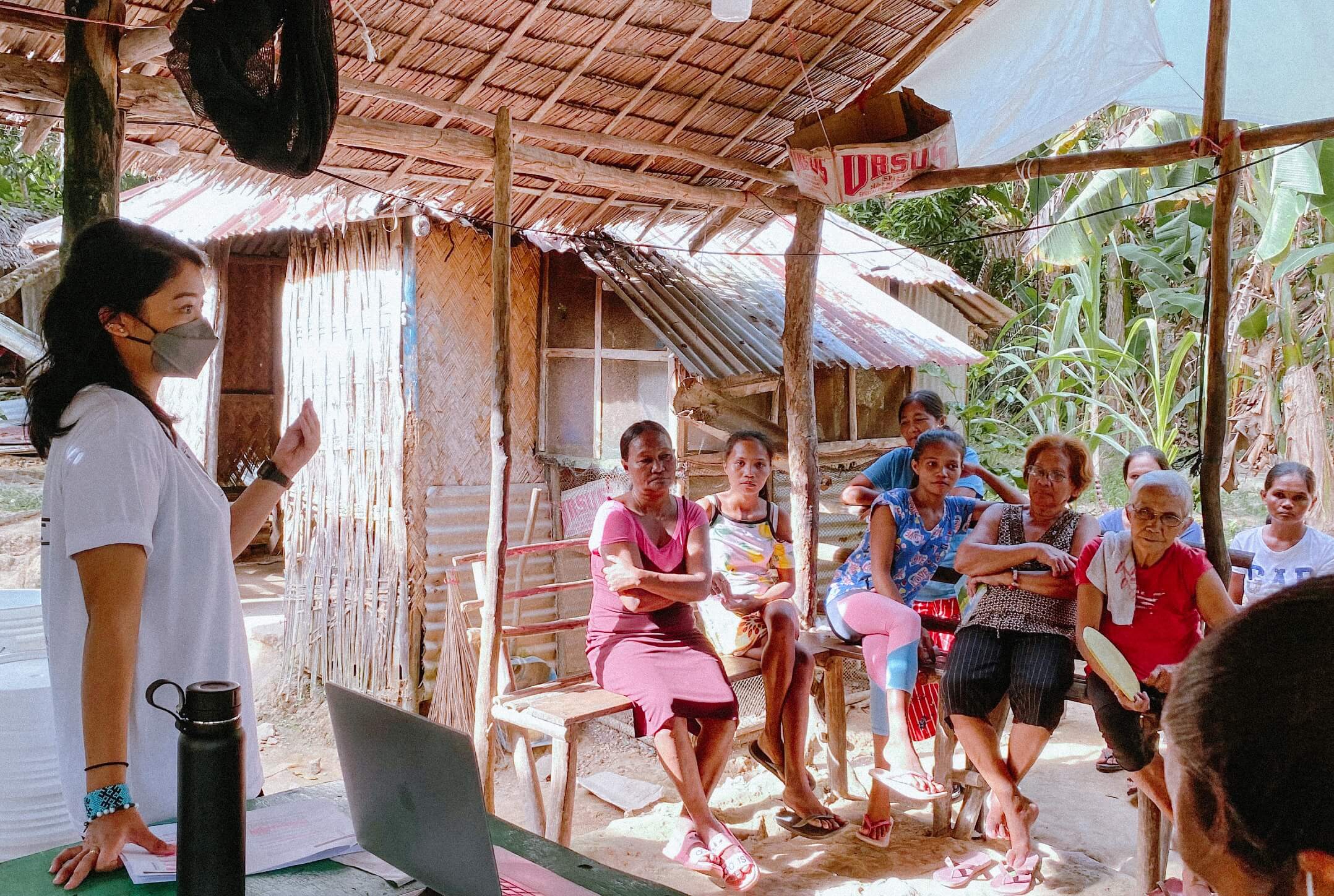 The mind is a playful thing, because as soon as the Batch started sharing stories of their regrets, mistakes, and fears—the things they wished they did or did better—the tunnel ahead seemed to get darker and darker. Am I strong enough to start again? Am I prepared enough to go a different direction? How do I even know where to go? It is true: the darkness paralyzes. However, it is also in darkness that faith shines the brightest. Even when there seems to be no answer, even in the absence of logic and evidence, didn't Jesus' believers know—in their heart of hearts—that He has risen, that He lives among us? Their hearts burned in His presence, and so do ours.
That fire is light enough.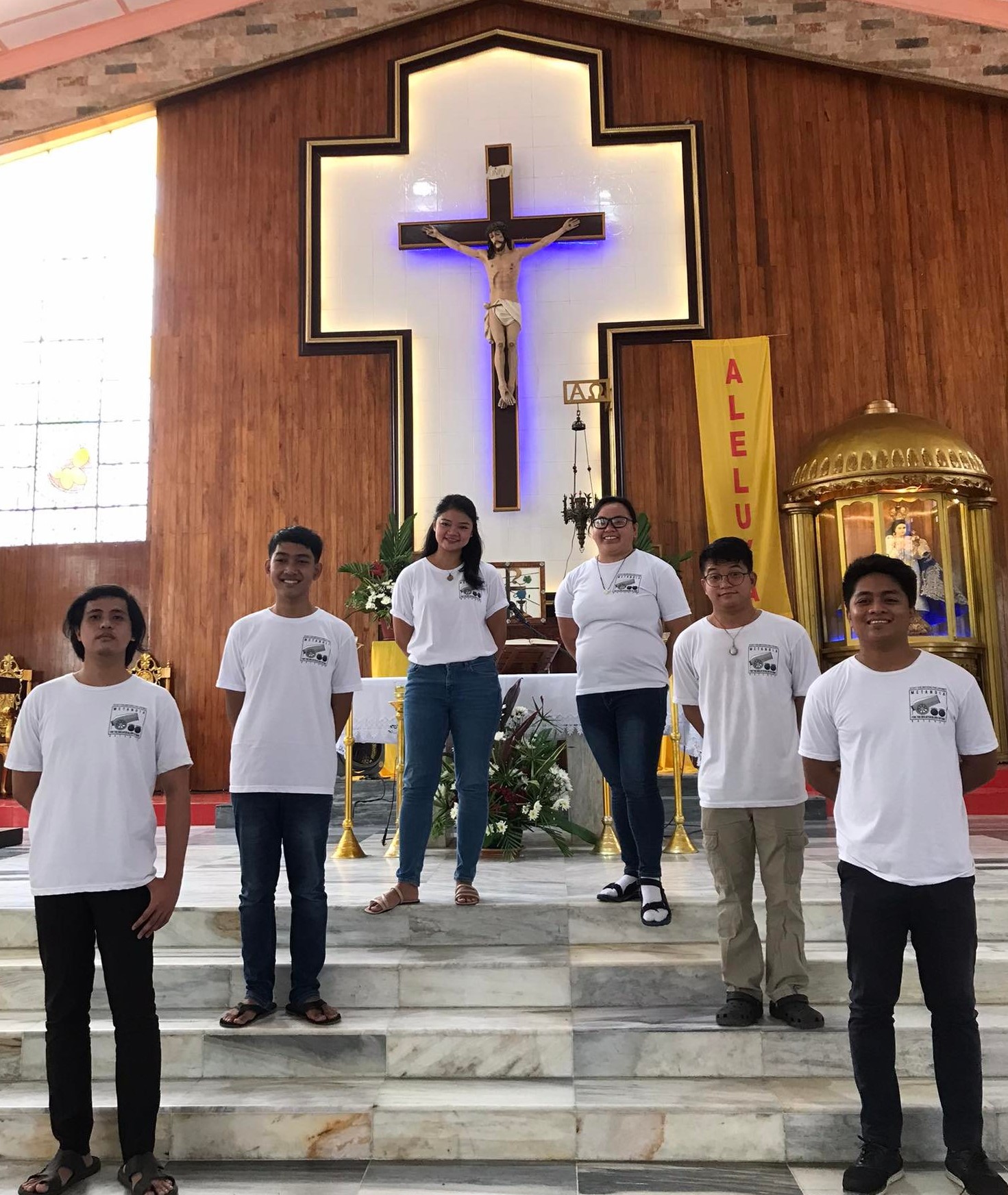 Sa Panginoon at sa komunidad ng JVP, salamat sa palaging pagbibigay-liwanag. Wala mang kasiguraduhan ang tatahakin naming daan, sapat na ang ilaw para sa susunod na hakbang. Padayon ta.
Who we are
The Jesuit Volunteers Philippines Foundation Inc. (JVPFI) engages in nation-building by recruiting, training and sending volunteers
for a year of service to marginalized communities and areas with the greatest need. Jesuit volunteers empower these communities as teachers,
formators, community organizers, or enterprise development officers assigned to under-resourced schools, parishes, and NGOs across the country.
VISION
A just society that celebrates the fullness of life realized with the help of a community embodying Ignatian Spirituality.
MISSION
We aim to form a community composed of volunteers, former volunteers and associates who nurture and live out the principles and values of Ignatian Spirituality embodied in and realized through their individual vocation.
HISTORY AND REACH
In 1980, nine young Jesuit Volunteers set off to serve in the peripheries of Mindanao. Now on its 39th year, JVPFI has successfully deployed over a thousand volunteers to 317 partner institutions in marginalized communities across the nation, serving where they are needed most.
CORE VALUES
SERVICE that builds. SOCIAL JUSTICE that empowers. SPIRITUALITY that loves. SIMPLICITY that frees. SOLIDARITY that unites.
JVP COMMUNITY
JVPFI has Local Chapters in Cagayan de Oro, Cebu, Davao, Manila, Naga and Zamboanga. Former Jesuit Volunteers form the Network of Leaders who support the Volunteer Service Program through recruiting and supporting current Jesuit Volunteers and organize activities to promote volunteerism, camaraderie and the JVP Core Values.
VOLUNTEER SUPPORT
Guided by the wisdom from over 39 years of experience, JVP, through its Volunteer Service Program, is able to provide the necessary support to ensure the volunteers are effective in their service. •Skills Training •Formation and Spiritual Direction •Financial needs •Community •Parents' meeting •Ensuring safety and security
Reach Us
jvpfoundation@gmail.com
Visit Us
Room 220 MVP-CSL Building, Ateneo de Manila University, Loyola Heights, 1108 Quezon City
Contact Us
Direct Line: +632 8801-2225 Trunkline: +632 8426-6001 local 4880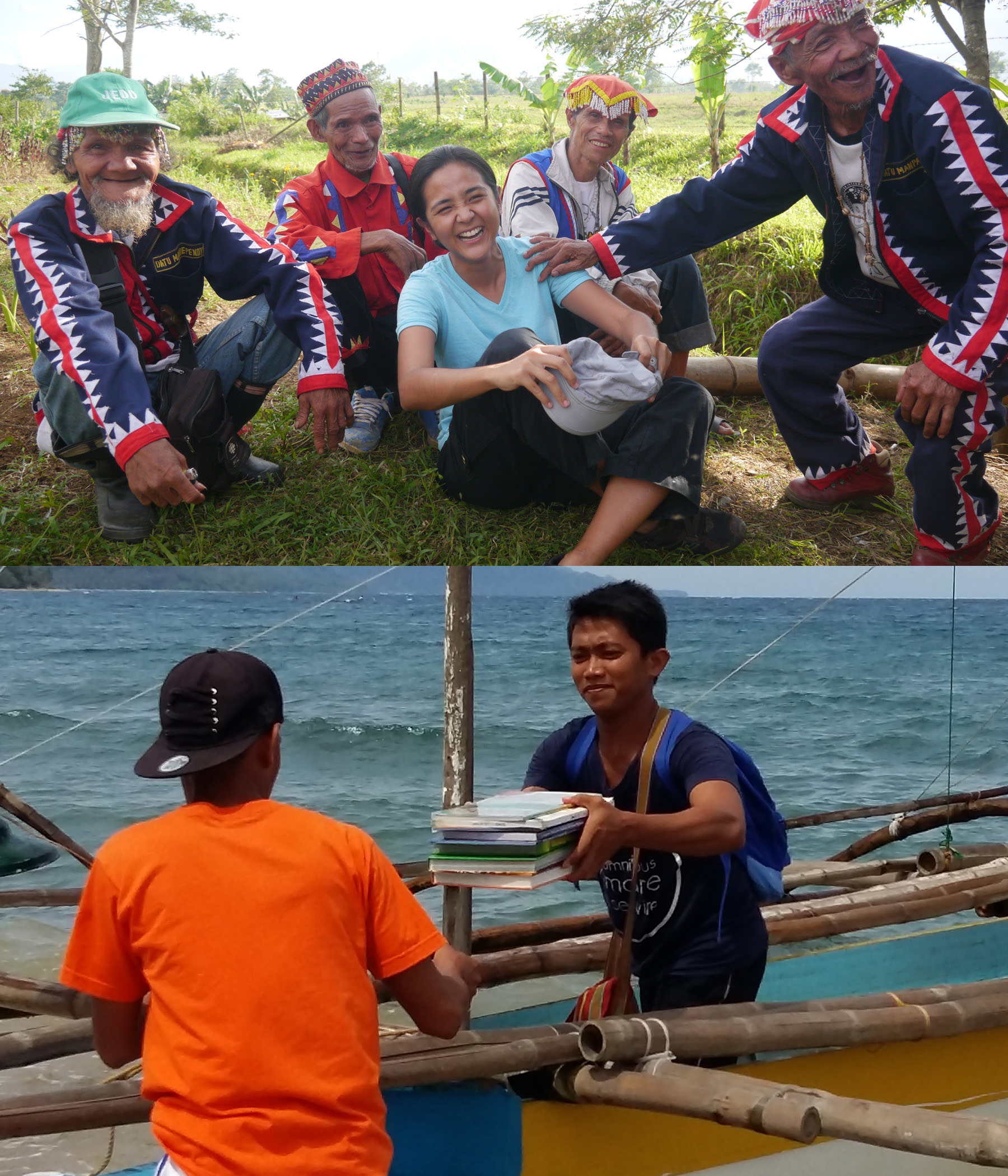 BE A JESUIT VOLUNTEER
Bringing Hope to the Nation's Margins.
Be where you are needed most.
For 42 years, Jesuit Volunteers have been sent to work with schools, parishes or non-government organizations (NGOs) to:
Teach in under-served areas.
Train grass-root community leaders.
Assist cooperatives.
Implement livelihood projects.
Minister to the disabled and abused.
Engage in youth formation.
Advocate environmental issues.
Uphold the dignity of Indigenous peoples.
Fight for the right of the oppressed.We are inviting brave souls who are eager hearts to take the road of loving service for God and country.
QUALIFICATIONS:
Single, under 35 years of age
A college graduate or a graduating student

Physically fit and emotionally-balanced

Willing to serve, share knowledge and skills in a community for at least 10 months

Determined to make a positive difference in the lives of others

Sincere in the desire to serve where there is a need
Consider JVP.

Share in the Mission | Jesuit Volunteers Philippines Foundation Inc.
Please inform us of all donations made: giving@jvpfi.org; (02) 4265908. Sponsor Jesuit Volunteers. Thank you for joining us in nation-building!
JVP Articles
Paglilingkod-Kusang-loob Stories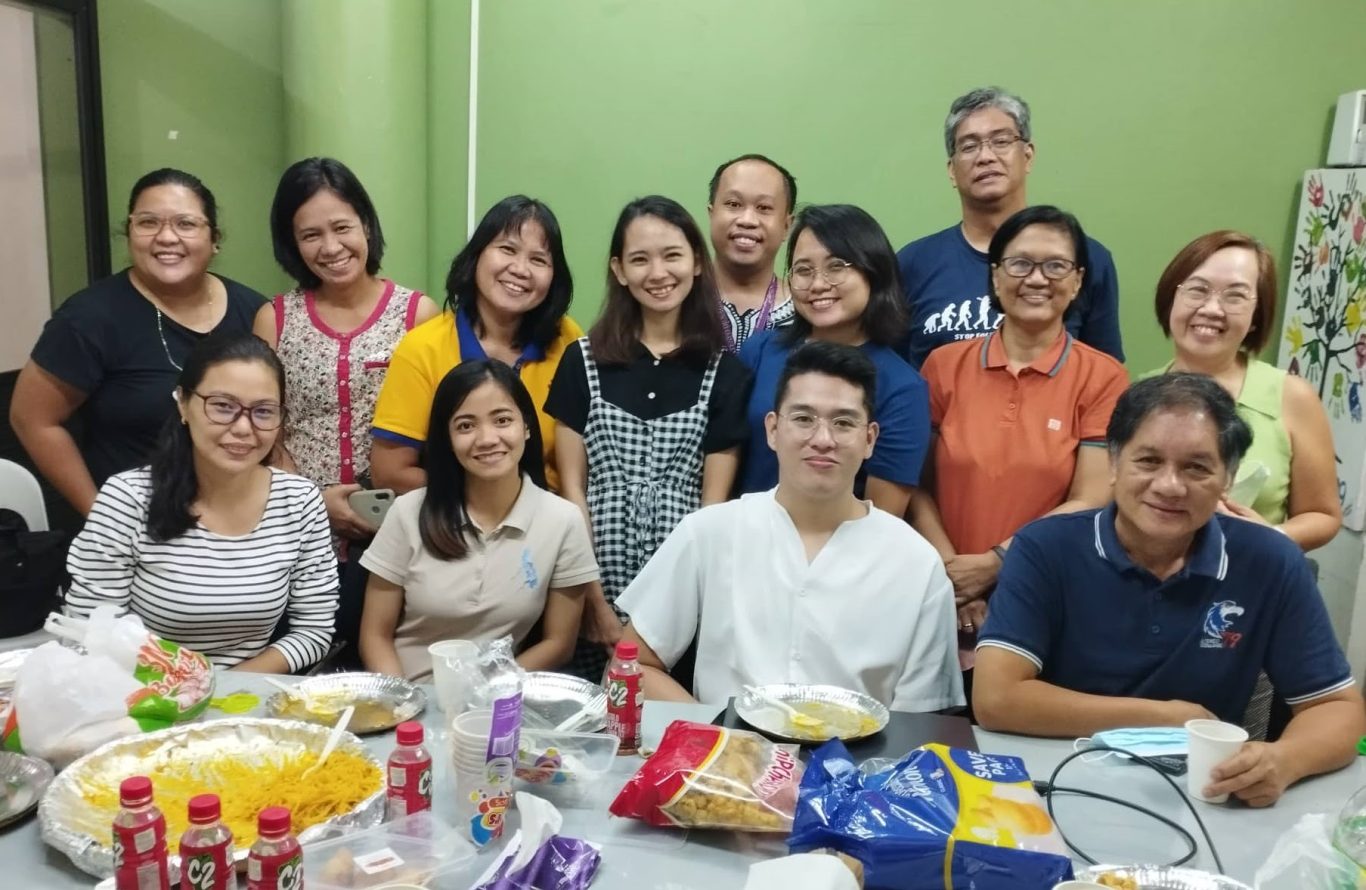 by Shayne Bonavente B32 Finally, after almost three years into the pandemic and after many cancelled and postponed schedules,...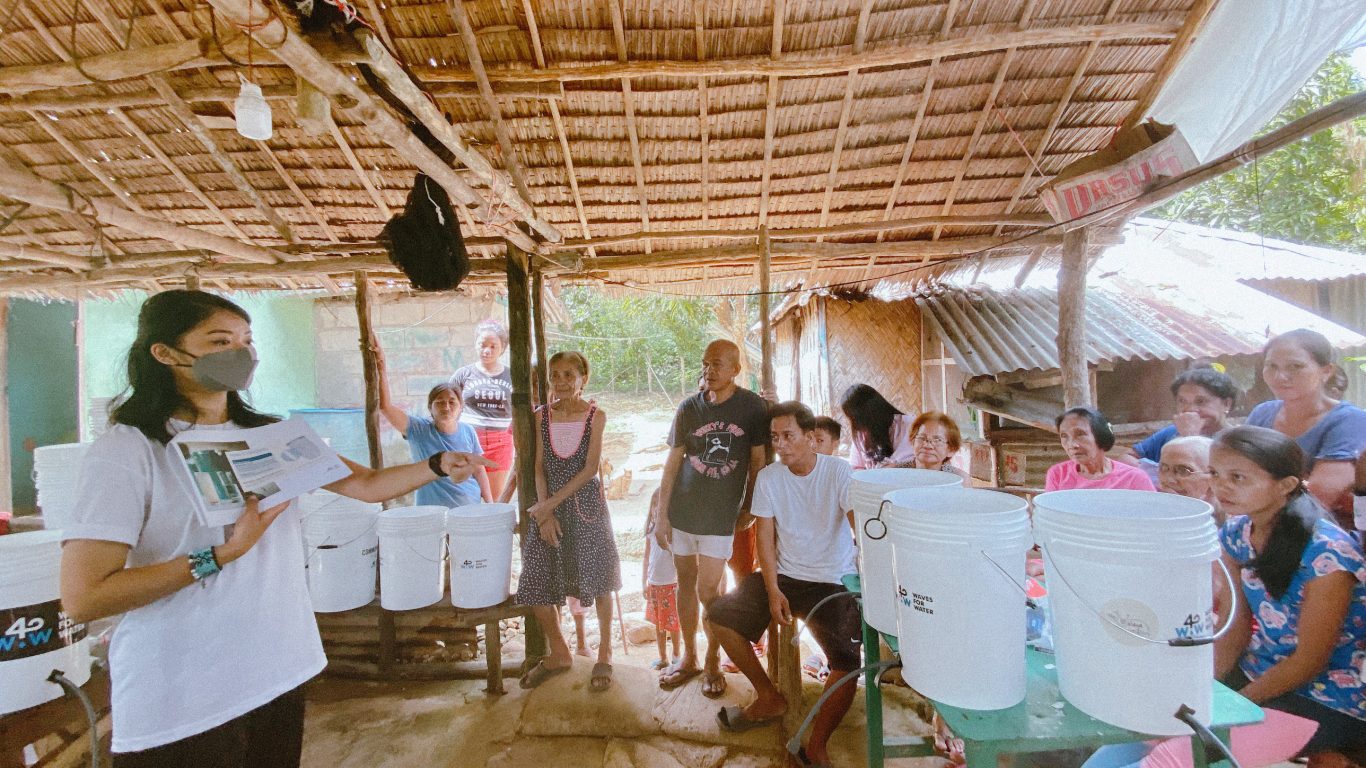 by Esa Banta, JVP B41/42 [Esa is a lawyer who is now on her 2nd year of volunteering as...